Forget the lemonade, if life gives me lemons I am making these lemon bars.  I'm not even a big fan of lemon desserts, but the flaky crust with the tartness of the lemon pairs perfectly.
Luscious Lemon Bars
2 cups flour                                                                   4 eggs, slightly beaten
1/2 cup powdered sugar                                              2 cups sugar
1 cup butter                                                                  4 tbsp. flour
6 tbsp. lemon juice                                                       1 tsp. baking powder
Mix flour, powdered sugar, and butter until just combined.  Pat into an non-greased 9×13 pan.  Bake at 350 degrees for 15 minutes.  While the crust is baking, prepare the filling.  Mix remaining ingredients and spread over crust.  Bake at 350 degrees for 25 more minutes.  Cool and sprinkle with powdered sugar.
I wonder how these would taste with other fruits?  I am loving peaches right now, so I might have to try that out.  My daughter would love it with blackberries.  As you can see I like a little lemon bar with my powdered sugar
Be sure to come back tomorrow and link up for Pin It Thursday!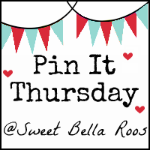 I love to party… please go check out these lovely blogs HERE and link up too!