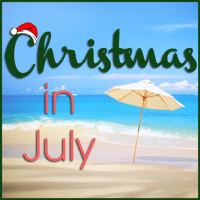 A few weeks ago I signed up for
Christmas in July
hosted by 
Alyx
,
Daryl
, and
Cecilia
.  Today is "Christmas morning", where we all get to share our gifts!
I was paired with the lovely Hailey from Lizzy & Jane's.  (Hailey=Jane!)  Lizzy & Jane's is a fun blog created by two sisters who live 1,000 mi apart… they also have a super cute Etsy store as well!
I was so excited when I came home one day to find this in the mail:
So I opened the envelope to find:
Ahh… more wrapping!  How cute are those little paper stars?  Opened the first box to find:
This super precious hair accessory… in my fav color!  Opened the second box to find:
Headbands! In every color of the rainbow.  I am so excited about these because they will be perfect for Sophia & all the hair bows I have been making for her!  And how cute is the blue and red head band??
I also received a gift card to See's Candies (woo!!) and yummy Lavender & Honey lip balm.  Eeek!
Thank you sooooooooo much Hailey!!  Hop over to Hailey's blog to see what I sent her!! I hope she likes it!!