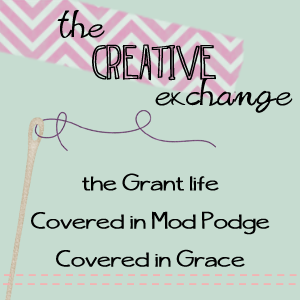 I participated in the Creative Exchange Party hosted by Covered in Mod Podge, The Grant Life, and Covered in Grace.
I was paired up with Michelle!  Michelle is a former Texan now living in Kansas with her Hubby, working to renovate their home and a 1976 Airstream.  How cool is that?
Michelle is a TCU alum, so I knew just what to send her.  I painted this wine glass in purple and white with TCU on the front.  From reading Michelle's blog, I found that she loves to garden, sew, and would love to raise chickens ha-ha.  As someone who has raised 20 chickens, I immediately wanted to dissuade her of that last one.  I also sent her one of my aprons in a bright sunflower pattern.  And lastly, I included a business card holder that I thought looked cute with the apron, and a little blue bag that I thought would be good for holding small sewing items.
I hope Michelle enjoys her "creative" goodies!
If you are interested in snagging an apron for yourself, check out my Shop!
Come back tomorrow and link up your Pin-Worthy posts to Pin It Thursday!