Good morning! Today I am linking up to Me, Myself, & I hosted by these lovely ladies:
Breanna, Shane, Kristen, Danielle, Jenna, & Amanda.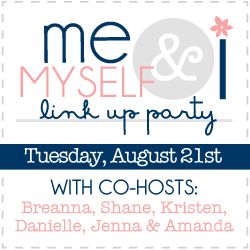 What would you attempt to do if you knew you could not fail?
I would open a bakery!  Specializing in cupcakes of course, but probably serve other mini desserts as well.  I already have my business plan so just looking for those wealthy investors… anyone?


If you only had six months left to live, what would you do with the time?
I am too pregnant & hormonal to really think about that question!  Just hearing the Tim McGraw song- Live Like You Were Dying- makes me cry ha-ha!
If a front page news article was written on you, what would be the headline?
"Woman Lived Long, Happy, Full Life"… it would be a boring story and I'm perfectly content with that
What is your biggest pet peeve?
Just one? Seriously, see #2… I am SOOO over everything and everyone right now.  (Not you, I like you…!)  But really, my poor husband.  I'd have to say right now the thing that ticks me off the most is bad drivers.  You know the guy who cuts you off to be first in the right hand lane, when they are going to continue straight and you could have totally turned on red.  When I'm not pregnant & hormonal, I'd probably say my biggest pet peeve is when people get my order wrong.  How hard is MEAT, CHEESE, and BREAD ONLY?!  Say it with me– plain and dry! 
What is your favorite chick flick movie?
Hmm… it's so hard for me to pick a "favorite" anything.  I'd have to say P.S. I Love You.  I'm not a big fan of Hilary Swank, but I do love me some Gerard Butler and Harry Connick Jr.  For real, I think HCJ is way under-rated… he's hot & he sings.
So there you have it! Are you participating in this monthly link up? Comment and let me know so I can go read your answers!