Good morning! Today I am linking up to Me, Myself, & I hosted by these lovely ladies:
Breanna, Shane, Kristen, Danielle, Jenna, & Amanda.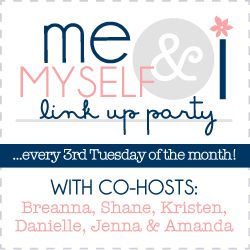 When you're feeling down, what do you do to pick yourself up?
I usually go for a drive and crank up the radio.  I love that my car syncs up to my iPhone so I always have access to music that fits my mood.  Seriously, what did we do before iPhones?

If you had to live in a different time period, which would you prefer?
Well, the thing is, I pretty much would not survive in any past time period haha.  Any time without refrigerators, running water, indoor plumbing, cars… count me out.  I'd like to say I would return to the 1950′s.  It makes me think of I Love Lucy.
What is the most creative Halloween costume you've ever worn?
Hmm… I had some pretty amazing costumes (most of which my Mom hand-made).  I would have to say the year I was a 1920′s Flapper was one of my favorites.  I really wish you could see the shoes in this picture, they really made the outfit
Five weird things about you we wouldn't know without being told?
1. I am double-jointed and hyper-mobile.
2. I am a super taster.  I promise, it's a real thing.
3. I was the Queen of my High School Rodeo Team.
4. I will only drink organic milk.  After making the switch I just can't stand the taste of regular milk.  It's really annoying especially if we go out to eat for breakfast.
5. I won Tarrant County Grand Champion Pecan Pie when I was 13 years old and sold it at the auction for $750.
What would you tell your 16-year-old self?
Run!! Break up with him now!!  Lol, but other than that I would say to really focus on your future.  Decide what you want to do with your life and don't be afraid to go for it.  Also, good or bad, it won't be like this for long.  So enjoy the good times and survive learn from the bad.
So there you have it! Are you participating in this monthly link up? Comment and let me know so I can go read your answers!