Good morning! Today I am linking up to Me, Myself, & I hosted by these lovely ladies:
Breanna, Shane, Kristen, Danielle, Jenna, & Amanda.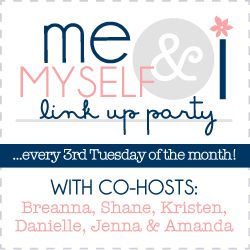 What is your favorite season?  Explain.
Fall is definitely my favorite season.  I love the changing colors, the crisp air, the smells of pumpkin/cinnamon/spice, sweaters & boots.  Halloween and Thanksgiving have always been my favorite holidays.  It makes me want a chai tea latte just thinking about it.

Talk about a moment that changed your life.
When I had my first baby.  It's like a switch goes off; there's the time before you were a mother and then there's after.  From that moment on you suddenly have the strength to leap tall buildings, do anything with only one free hand, and understand the meaning of unconditional love.
If you could be any Crayola crayon color, what would you be and why?
Robin's Egg Blue; that was always my favorite growing up.  I guess it played in to my now love of turquoise.
Describe yourself as a superhero: Superpower? Name? Sidekick?
Superpower: eyes in the back of my head; ability to detect a wet or dirty diaper from across the room; able to clean up puke without puking; strength to carry a car seat with child, a diaper bag, and all 42 bags of groceries in one trip while holding the other child's hand
Name: Mom
Sidekick: Dad
If you had all the money in the world and could only shop at 3 stores, where would you shop?
1. Target… because it seems like I shop like that now.  Just go for one thing, come out with twelve.
2. Tiffany & Co
3. Hobby Lobby
So there you have it! Are you participating in this monthly link up? Comment and let me know so I can go read your answers!